Child of God Lutheran Church and School wants to help support your family as they grow in all aspects of their lives.  Most Connections opportunities will be an hour or less because we know today's families are busy and want to stop life, if just for a short time, and connect with each other.  Below are a list of Connections opportunities for you to consider spending some quality time to help grow your family and stay connected.
 Family Connections:  One Saturday of each month from 10:00 am to 11:00 am. (Unless special event and will be notified with *) Each month will have a different theme and include a family devotion, activity and fellowship.  You will also be given family devotions and parenting information to take home each month. Example of some Family Connections could include:
 Family Nights
Blessing of the Backpack/Family Fun Fair
Build-A- Fort
Fall Festival/Trunk or Treat
Family Workout on the Playground
Birthday Party for Jesus/Tree Decorating
Ice Sculpting: It is cold outside!

 

Love You Lots in February
March Madness and Open Gym
Walk With Jesus/Easter Celebration
Gardening Isn't Just for Grown-Ups!

 
 More Connections During the School Year
 Bible Connections – Monday Mornings during the school year for parents/grandparents Bible Study 8:15 – 9:00 am.  Coffee will be provided as we connect with the Bible and each other.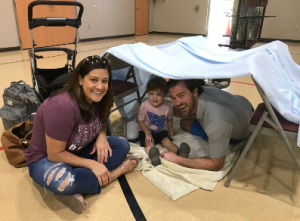 Little Lambs Connections – Playgroup once a week for church and school families.  Designed for parent/grandparent of children birth to 3 years old. Tuesdays in the Library from 8:15-9:00 am.
Coffee Connections- You are invited to a "Coffee Chat" with Dr. Sandfort and/or Pastor Gorline from 8:10- 8:30 am on Thursday mornings.  They would love to get to know you better and are ready to answer any questions you might have about our church and school.  We would also love you to stay and enjoy Chapel with our school and your favorite student.
 Parent Connections – Several times during the year, PFG (Parents and Friends Group) and Child of God staff will lead a variety of Parent Connection Nights.  These will include sharing parenting and children information on topics such as Social Emotional Development, Screen Time and Internet Safety, Fine Motor and Gross Motor Development, Kindergarten Readiness.